Special Features

European split zone mirror, it is used to see the blind spot. For part number click here.

Hella Red and Clear tail lights, for that classy touch.

Votex VW original spoiler, because I love those original accessories. For part number click here.

Shortly FUBA antenna, it lower profile and looks cool, works good for radio.

European V6 emblem on the rear, gives it that German look. For part number click here. Old photo

The front Headlights use a Kamei spoiler to give it that "mean look". Old photo



This a European VW accident kit which matches the Owner's Manual, email me about this if your interested in having one.

The center console of my Golf, the Head Unit has been moved up to the top DIN and a single CD player added. For part number click here.

European Headlight switch added. For part number click here.


The new VR6 engine bay area is awesome now factory with red wires and of course I have added a few things, A Neuspeed upper strut tower bar and K&N air filter. Notice my V6 badge on the engine cover.

Clear In-Pro European side turn signals.



Hella Micro DE Fog lights for Golf IV, installed easily with the included instructions and the switch was wired to the rear fog light position on the European switch


These are Kamei stainless steel Door Sill covers they are very high quality and install in seconds, they improve that door jam area, cool!


These pictures show a few things, first the new Polo GTI front badge, this badge has the I in red to match the rear emblem. I trimmed down the factory fasteners and made it so it could be fastened to my Kamei sport grill. The other thing this picture shows is my two sets of fog lights on at the same time.


312mm brakes from the Audi TT and S3. I have the part numbers listed in the part number section of this site. The installation went as easy as pie. I wrote down a few things and snapped some photos while I did it just look here.

The new Hella blacked out Headlights are awesome, the light output increased tremendously and added a new look to my front end. The Lights are outfitted with standard Oshram Bulbs, while the turn signal has the Diadem bulbs which look clear when not lit and flash amber (darker shade of amber).

Brillenbox a new accessory from VW that holds your eye glasses or sun glasses. I found this item in a VW/ Audi magazine. It listed a VW part number and I went down to my dealer and ordered me one. It replaces the drivers side handle in the headliner. I am sure your not going to need this handle. But it may be there for our RHD models in GB. To get part number click here.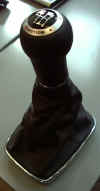 2001 Bora 4-motion 6-speed Shift boot set, this is a new item from the European Bora. The biggest difference is a chrome trim ring at the base of the boot. It matches perfectly on the GLX model Golf and Jetta IV's. - NEW!



The Neuspeed upper tie bar provide a solid feel to the front end. It reduces stress from swaying left and right when cornering. I had to alter the driver's side portion of the tie bar mount to accommodate the hood raiser. For complete procedures click here.


With the addition of the Hella Micro DE fog lights, I was going the block off a air passage that is intended for a Auxiliary Water cooler and for Turbo models it is a Intercooler. The had a European V6 front spoiler so I made a cut-out in the passenger side of it to add air flow, I also modified the duct inside the bumper to draw it from the open duct. The I added the TT/ S3 wheel liner vent, it provides a air flow path for air coming in to the cooler. It kind of acts like a vacuum. Since I have these fog lights there now I think I have made up for the loss doing these modifications. The car hasn't missed a beat. To see how to do this go to my "How to" section. For part number click here.


Audi TT pedals set, need I say more about these. They are OEM pedals that fit right. The Dead pedal is awesome a must have if you what these pedals. Click here for part numbers.

Kamei Chrome mirror cover for Golf/Jetta/Passat. These are great looking covers that fit over your mirrors and give it a classy touch. They give you the Audi "S" car look without buying the mirrors themselves. Those "S" mirrors run $300.00 ea, but they are polished aluminum. Look here soon for these on my GTI.

New from Kamei are T4 headlight spoilers. These are great items and long awaited. They come in either 1995 and earlier or 1996 and later. These will be soon on my EV when I get it re-painted.